Elie Hazak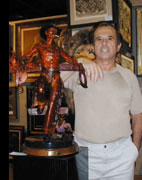 Elie Hazak is an unlikely looking Western artist. When you see his bronze sculptures depicting vivid scenes of Indians, cowboys and mountain men, you imagine their creator to be the strong silent Gary Cooper-type. The kind whose mouth forms a perfectly straight line opening only at the corner to say "yup" or "nope." The kind whose long, lean frame fits into a saddle as if he were born in it. But Hazak, who works in a studio in his home, doesn't look like an Old West character. He prefers to wear shorts and a T-shirt rather than denims. After a serious riding accident, he prefers to sculpt horses, not sit on them. With his round jovial face and short stocky frame, he doesn't wear a cowboy hat as much as it wears him. And Hazak knows it. Elie feels his biggest gift is his imagination. "Bronze is cold metal," he says. "When you think of bronze, you think of cold and heaviness. I like to bring in motion, and put emotion into the faces of both men and animals. I like to give human feelings to animals." Hazak succeeds with his goal. His bronzes, some of which weigh up to 200 pounds, practically surge with life, capturing moments of dramatic intensity. Why would an artist raised in Israel, halfway around the world from the United States, become so captivated with the Old West? As Hazak explained, the West is a state of mind that is universally appealing. "When you think about it, foreigners really created the west and then they came here to be in that picture,"-Hazak said. "The freedom, the horses-they existed, but it was the foreigner who romanticized it." Hazak conjectured that Western art is such a popular form today because it "symbolizes the space and freedom we had at one time, and are losing every day." As a boy growing up in Jerusalem, Hazak was fascinated by art and particularly by sculpture. He grew up near Mt. Zion in Jerusalem, the burial place of King David. As a teenager, he studied at the Bel Zallel Art School in Jerusalem. He later toured Israel and Europe as an actor and performer, working on clay sculptures in his spare time. Hazak is one of the handful artists whose work is on permanent display at the Thomas Gilcrease Museum in Tulsa, Oklahoma, the foremost showcase of Western art in the United States.

By Nikki Batalis, Ventura Star Free Press

Harold G. Davidson, author of "Edward Borein, Cowboy Artist" and noted art critic says of Elie Hazak's work: "This young sculptor possesses two of what I consider to be hallmarks of future greatness. First he has the priceless ingredient, enthusiasm. Secondly, he is a prolific artist, usually a sign of competency by an artist in his craft. Hazak's bronzes are exciting, full of action, and show the result of careful research into his subject matter, although I have never subscribed to the cult of 'authenticity,' feeling as I do that spirit, anatomy and modeling are fully as important as leather and hardware. Elie Hazak has found a happy balance of both philosophies. He has reached an important milestone in the development of artistic perception, and is mature enough to distinguish between valid criticism and mere envy. Elie should go far in his chosen field."

CART selected Hazak to produce the Mario Andretti Trophy in an effort to offer a unique approach to creating trophies as well as a gesture of gratitude to the racing legend who lent his name to it. CART worked with Andretti to allow him the rare opportunity to select one of his favorite artists and then provide major input into the trophy's creation as a valued piece of bronze sculptured art. The Mario Andretti Trophy is presented to the CART Car Racing Driver who garners the most votes from the voting contingent consisting of drivers and media. "By commissioning one of Mario's favorite artists and then having Mario Andretti discuss his career and his passion for the sport with Elie Hazak, this creation of fine art will carry significant meaning for all those involved"- said CART president and Chief Executive Officer Andrew Craig. Andretti was introduced to Hazak's work at a Scottsdale, Arizona gallery that featured the artist's bronze sculptures that depict vivid scenes of Indians, cowboys and mountain men. The detail and intellect of Hazak's creations immediately impressed him. "They were not like anything I had seen before - and I've been around. His work is not cold bronze, but bronze with emotion. Elie's bronze is alive,"-said Mario Andretti. Although Hazak does not normally produce trophies, he was enthralled by the opportunity to create a trophy in the honor of an auto racing legend. In addition to the Mario Andretti Trophy, he also has been commissioned to create the individual trophies for the four other CART All-Star Team members. The Mario Andretti Trophy is a 38-inch tall; 95-pound blend of bronze, marble and walnut that represents Andretti's years in racing with a globe, an olive tree and replicas of the various types of cars Andretti has driven.